Image
image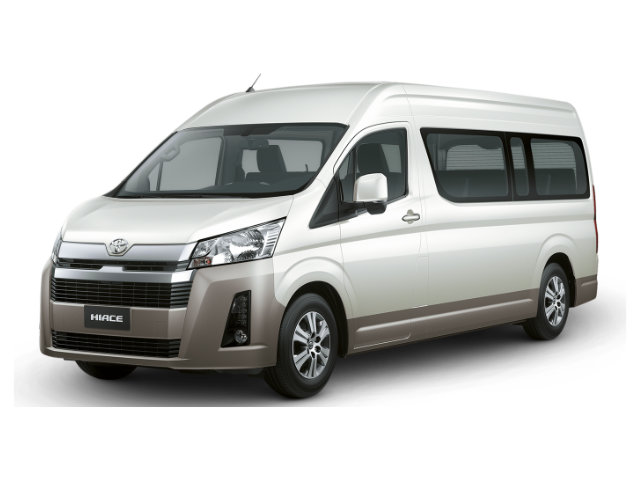 Body
Description
Special Sticker Sale
Hiace Commuter 15 seater - Afl. 77,575 (*old model)
Hiace Panel Van - Afl. 49,878 (*old model)
** As Long As Stock in Showroom Lasts **
It's a van life!
The new Hiace continues to reliably and faithfully satisfy drivers and passengers around the world. People know and trust the Hiace as a reliable partner in all types of conditions. The Hiace provides easy, stress-free, comfortable, safe, and reliable transport, even on rough roads. With superior comfort and quietness, passengers have a personal space where they can travel, work, and relax.
The new semi-bonnet design has made some significant improvements possible. In the new Hiace, users will quickly feel an unprecedented level of satisfaction, peace of mind, and reliability, giving them the confidence and satisfaction, they expect and deserve from the Hiace.
Model variants list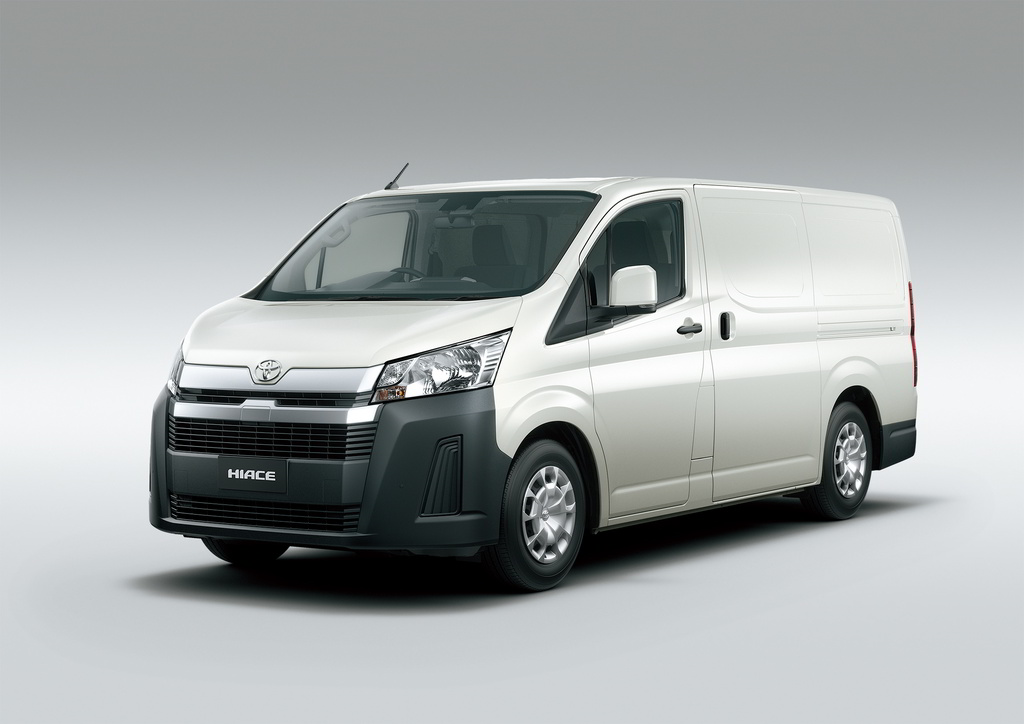 Hiace Van
The Van is available in 1-row seating layout that seats 2-3 people.
With access wide enough to accommodate forklift loading from the side (L2H2* only) and rear, up to four European pallets (800 mm x 1,200 mm) can be loaded into the new Hiace. The same impressive cargo area has been made possible with the new body design and other improvements.
In the rear, the elimination of a step between the first row and the cargo area also accommodates the loading of longer items.
The overall external mirror-to-mirror width of the vehicle remains the same, however the internal cabin width and rear wheel housing pitch have increased by 215 mm and 148 mm respectively.
Cargo bay capacity: 6.2 m3 (L1H1*), 9.3 m3 (L2H2*)
European pallets (800 mm x 1,200 mm): Up to 4 pallets
Cargo area: Increased width and height of 215 mm and 5 mm respectively
Available in 1-row layout, seating 2 to 3 people
Awg. 63,000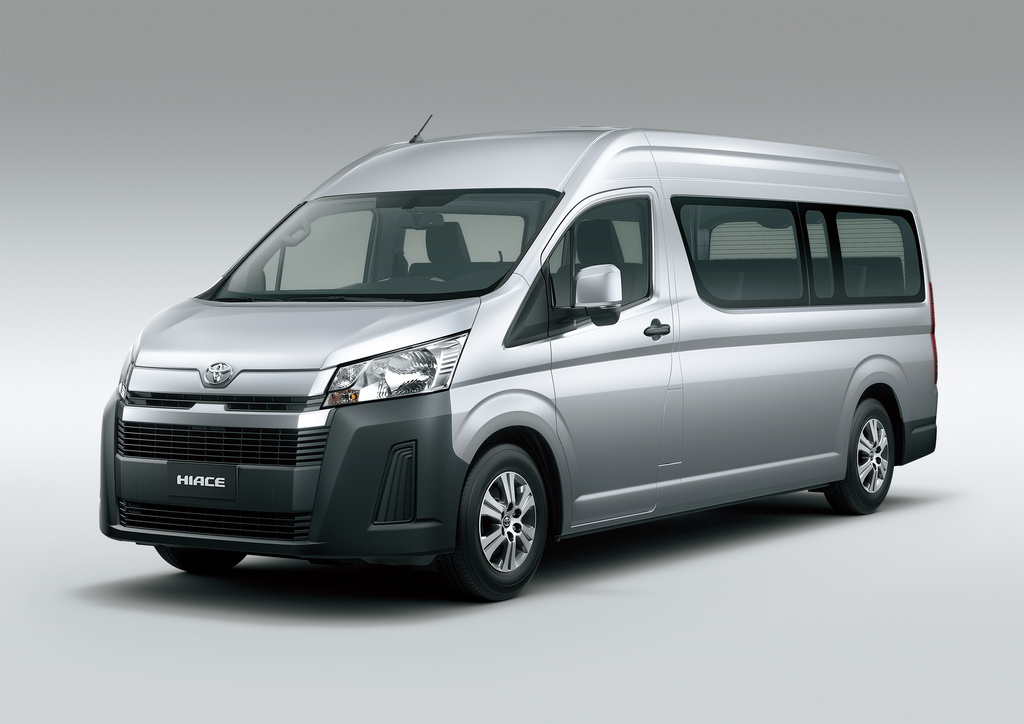 Hiace Commuter
The Commuter is available in 4 and 5-row seating layouts that seat 10-17 people (varies by region). The 4-row layout seats 10-15 people, while the 5-row layout seats 12-17 people.
The new body design has enabled some key improvements, especially in the areas of safety, comfort, and usability.
With a completely revised platform and body type, the new Hiace boasts a Euro NCAP 5-star level of safety, providing class-leading safety for drivers and passengers. An impressive range of seating layouts are available, with improved accessibility and legroom, accommodating up to 14 and 17 people for the Hiace Tourism and Hiace Commuter models respectively (varies by region).
The front door opening now has a lower bottom edge with a wider step, providing 

front passengers and drivers with more comfortable access.
Larger fixed-glass areas on the front doors increase side-to-side visibility, enhancing safety.
A lower belt line gives the driver an improved downward field of view at the front.
Increased kneeroom and legroom provide passengers and drivers with a more comfortable ride, even on long journeys.

Longer wheelbase improves stability and ride comfort.

Tire steering angles increased from 39 to 45 degrees for improved maneuverability.
Wider internal dimensions – without increasing the overall width of the vehicle. The impressive cargo capacity remains the same, with the added benefit of being able to load longer items.
Awg. 70,000
Tag line / Summary
The lineup covers a wide range of categories to meet the needs of owner-drivers, private drivers, passengers, VIPs, fleet, and corporate users. When compared to regular passenger vehicles, the Hiace is unique in that the owner is not necessarily the driver or the passenger, nor is the driver always familiar with the passengers. Each of these people is in contact with the Hiace in different ways, and they all have their own unique needs and expectations. 
Owners want a safe, durable, dependable, unfailing vehicle with the best resale value, but without high maintenance costs. Drivers want a vehicle that is safe, comfortable, easy to drive, stress free, and reliable. Passengers want a safe and comfortable vehicle that is a pleasure to ride in.
For both drivers and passengers, seats must be comfortable, even on long journeys. Passengers appreciate larger windows for a better view when they travel, and want a bright interior when they need it, so they can read or work on the go. For passenger vehicles, air conditioning must reach the back seats, and the interior must be easy to clean.
The new Hiace Van (L2H2*) has a wider sliding door opening that makes it possible to load European pallets from the side and rear using a forklift. For all types, the interior width and height have been increased while maintaining external mirror-to-mirror width of the vehicle.
These are just some examples of how the new Hiace has been developed with owners, drivers, and passengers in mind.
Selling points list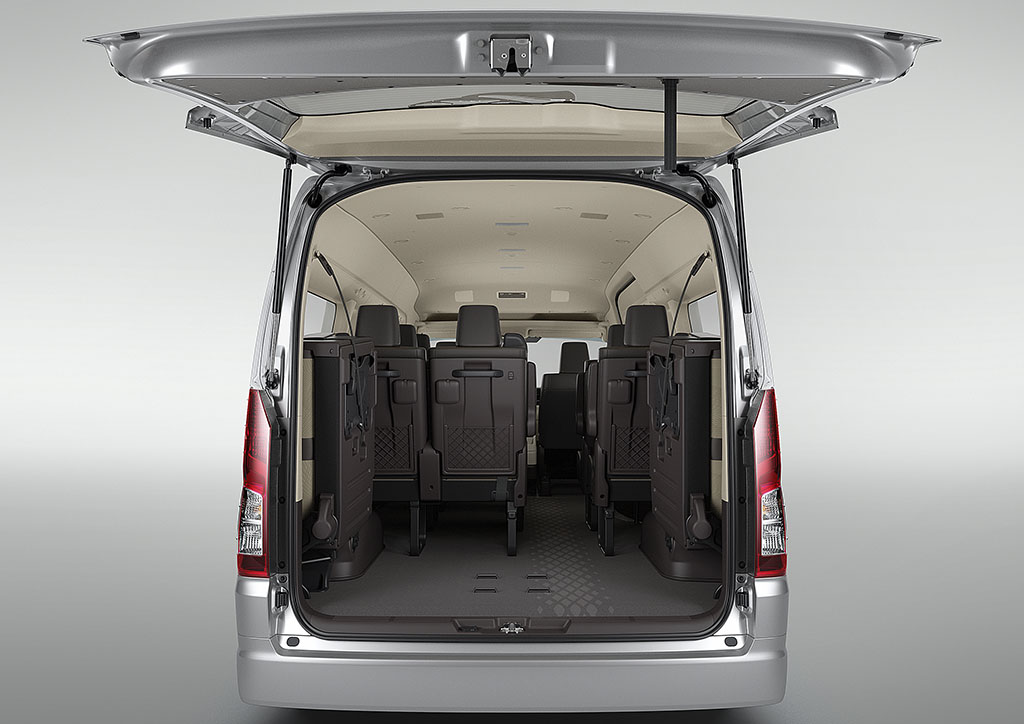 Storage
Convenient storage features have been designed with users in mind. Comfort and peace of mind for drivers and passengers contribute to the added satisfaction of using the new Hiace. Used by a diverse range of drivers and passengers who have their own individual needs, the new Hiace boasts a range of enhanced storage compartments for a variety of uses to make working and traveling easier and more enjoyable.
Ample storage under the front seats for shoes and helmets is now available thanks to the new semi-bonnet design, which has freed up space under the seats.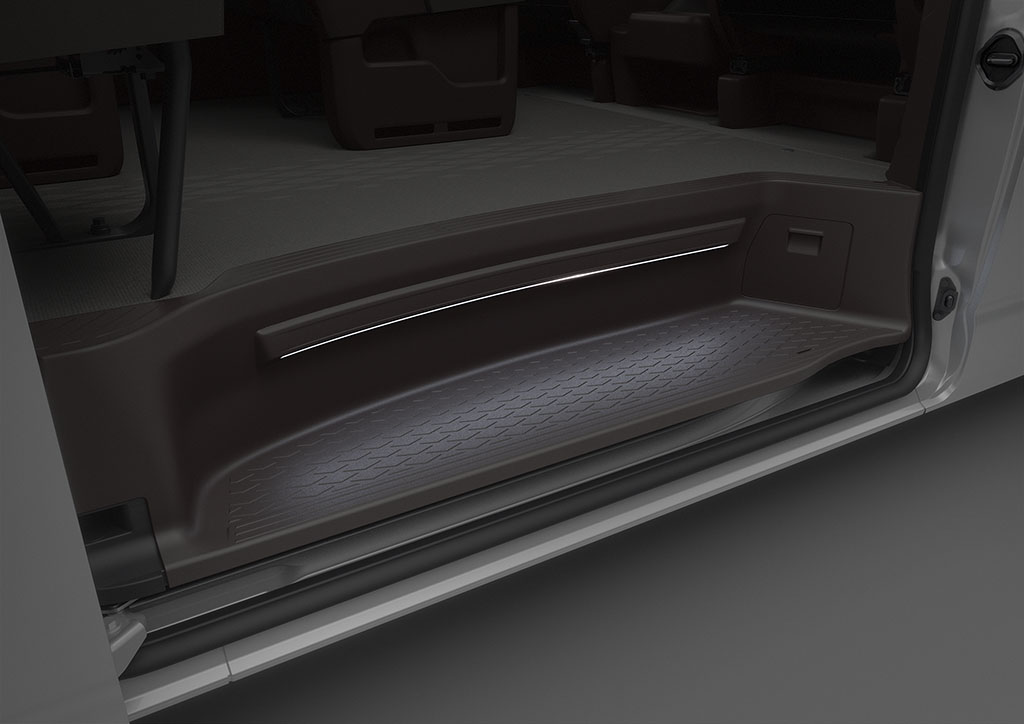 Interior comfort
Numerous interior features provide drivers and passengers with luxury, comfort, and peace of mind. The Hiace continues to satisfy its users as the faithful and reliable partner they have come to know and trust.
Lamps at the sliding door entrance illuminate the ground and step, improving visibility for passengers entering and exiting the vehicle, especially in low-light conditions.
Colored assist grips with high visibility, located on the left and right sides of the sliding door entrance provide passengers with confidence and peace of mind as they enter and exit the vehicle.
Shoulder grips on the top corners of aisle-side seats enable passengers to easily move around inside the vehicle.
Once passengers are seated, assist grips on seat-backs help them to quickly and easily sit, stand, or adjust their posture.
Conveniently positioned reading lights on the upper sides of the interior provide visibility in low-light conditions for passengers who need to read or work.
Easy-to-access USB ports on the sides of every seat for the convenient charging of devices.
Note: Functions may vary depending on region/grade.
QDR that keeps on working
Surpassing the already high baseline performance of the current generation, the new Hiace delivers exceptional reliability. For owners, this translates into less downtime and a higher return on investment as a result of better durability and serviceability for consumable parts. A long history in tough and demanding conditions has resulted in a Hiace that sets new standards.
Ride Comfort
A high-quality space invites both drivers and passengers to enjoy their journeys in comfort, with as little fatigue as possible. Even in the rear seats, passengers can ride in comfort thanks to the improved suspension, together with a level of quietness that enables them to effortlessly hold a conversation.
In the front, newly developed MacPherson struts provide excellent handling and stability, as well as ride comfort.
In the rear, newly developed rigid leaf spring suspension realizes excellent reliability and ride comfort. Thanks to the new body design, leaf span was increased by 200 mm, extending the bound stroke by an impressive 30 mm. Spring characteristics have been changed, realizing a comfortable ride while enhancing handling and stability.
Superior quietness (Tourism)
The semi-bonnet design increases the distance of the engine from drivers and passengers. In addition, various sound-absorbing materials and construction methods further enhance noise and vibration performance, contributing to excellent ride comfort. Reduced noise from the road and engine enables passengers to effortlessly hold a conversation. This level of quietness also makes it easier for the driver to notice any sudden requests or calls for attention from passengers.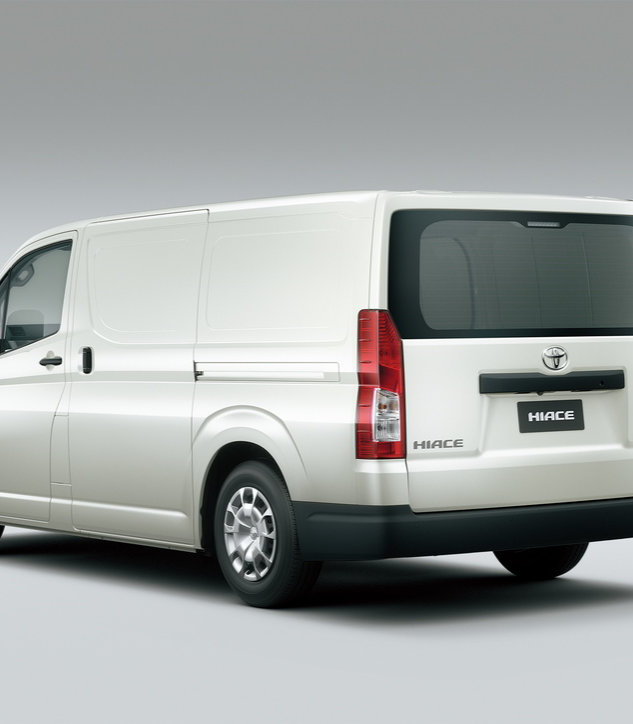 Toyota Safety Sense
Clearance Sonar
A meter display with a mutable buzzer shows the position and distance of obstacles relative to the vehicle, and the addition of a close-range alert level helps the driver to judge distances more accurately. Individual left/right indicators show which side of the vehicle obstacles are located, providing further assistance to the driver.
Back Monitor (Optional!)
Guidance lines indicate the approximate distance from an obstacle, enhancing vehicle controllability when reversing.
** Only available with Hiace Cargo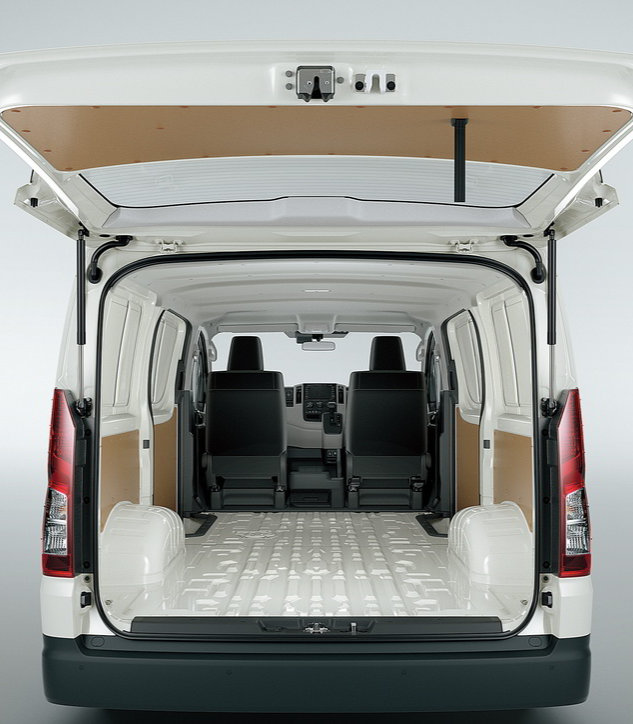 Customization
The Hiace has been used for decades as a faithful partner in cargo and people transport. One of the things that makes the Hiace so attractive for professional use is its customizability and trustworthiness. Numerous flat mount surfaces and anchor points make it as easy as ever to alter the vehicle for specialized use. In-depth field research has enabled a design and layout that enhances customizability.
Owners need a van that can be modified to meet any need, no matter how unique. People depend on the Hiace as an important piece of their infrastructure, therefore reliability and durability are a priority. Together with the new Hiace, an updated and highly detailed body builder's guide is available from Toyota to give auto-body builders the information they need for customization.
The new Hiace offers the same impressive cargo capacity of the current generation with larger internal dimensions, including a wider rear wheel housing pitch, further broadening customizability options.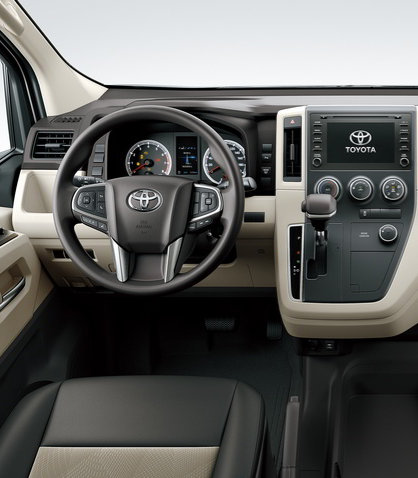 Passive Safety
As a faithful, trustworthy, and reliable workhorse, a high level of safety is something that is provided with every Hiace. The new semi-bonnet design made it possible for the development team to achieve a Euro NCAP 5-star level of safety, providing a high level of protection for owners, drivers, passengers, and pedestrians. The new body design provides more space at the front of the vehicle for increased impact absorption. In addition to the obvious benefits of safety, for the driver, this also results in a more reassuring experience, which results in a less fatiguing drive.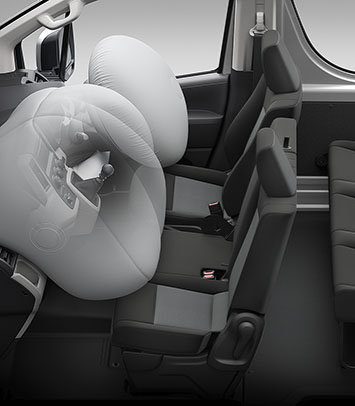 SRS airbags
Supplemental Restraint System (SRS) airbags are available throughout the vehicle in consideration of occupant protection. A Euro NCAP 5-star level of safety is provided with a total of seven SRS airbags for front occupants, and two curtain shield airbags for the rear passengers. A total of nine SRS airbags are used throughout the new Hiace.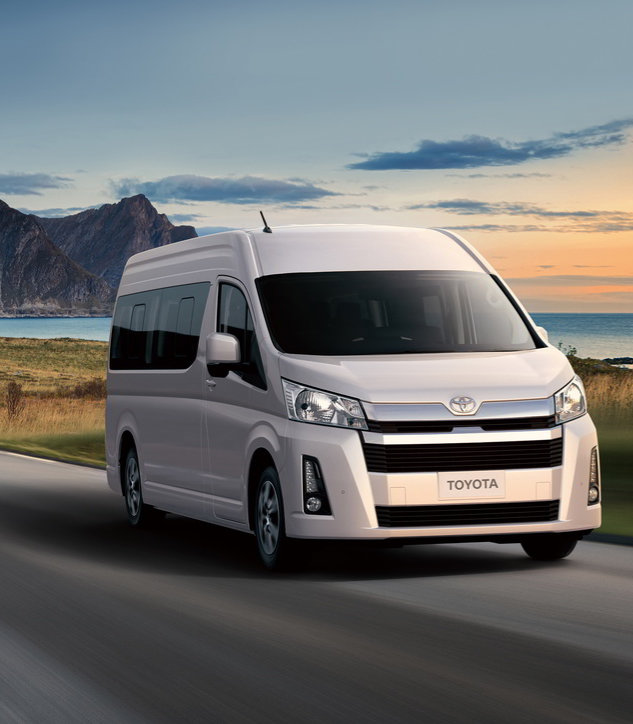 Highly rigid body
A new platform with increased rigidity has been developed for the semi-bonnet design to enhance collision safety, durability, handling stability, and ride comfort.
Back